StORytime: Kindergartners converge on TVCC
October 6, 2014
Read original on The Argus Observer
Oct 3, 2014 by Jessica Else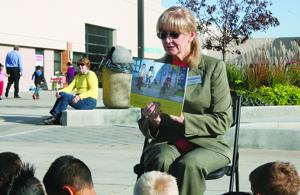 ONTARIO – More than 400 kindergartners swarmed onto Treasure Valley Community College's Ontario campus Thursday morning as state officials launched stORytime Oregon, an early literacy initiative organized by the Oregon Education Investment Board, led by Chief Education Officer Nancy Golden.
"It's a campaign to get parents involved in promoting early literacy through singing, talking and storytelling,"
said Anabel Ortiz-Chavolla, director of school improvement with the Ontario School District.
The campaign focuses on the many teachable moments in a day when teachers, parents and other family members can enforce reading skills in a child's life.
"Reading with a book is important and incredibly valuable, but there are other ways to develop literacy skills through play and singing and talking with parents," said Kristin Gimbel, Oregon Education Investment Board communications director.
"There are learning opportunities in everyday moments. Whether you are at the grocery store or taking a walk in the park or driving in the car, all of those moments are tools for literacy skills."
Umpqua Bank has partnered with the Education Investment Board to make the campaign happen.
"There's a book donation portal," said Nicole Stein, vice president of communication responsibility for Umpqua Bank.
"Umpqua Bank will match donations from the community up to $100,000, so basically we're doubling it."
StORytime Oregon emphasizes that literacy can happen in any language and anyone can help teach children how to read.
"Everything we've created with the campaign is designed to be easy and fun and relevant to communities across the state, whether it is urban, rural, tribal communities, Spanish and English," Gimbel said. "Older siblings can help younger siblings. Grandparents can play a role for students to get on track."
Gimbel explained many parents don't have time or feel intimidated at the prospect of teaching their child in daily life.
"Parents are working multiple jobs," Gimbel said. "In some cases it's about the education level of the parents; in other cases it's a matter of confidence. Some parents are not feeling that they have the skills and tools that they need."
StORytime Oregon is holding five kickoff events across the state in counties that were influential in developing the campaign. The TVCC event began with a snack for the kindergartners and stories read aloud by community leaders and officials, including TVCC President Dana Young and Matt Sorensen, executive director of Boys and Girls Club of Western Treasure Valley.
After a transition to the Meyer-McLean Theatre, attendees were welcomed by Ken Hart, director of development and community development at Saint Alphonsus Medical Center-Ontario, who emceed the event. Malheur County Circuit Judge Lung Hung, state Rep. Cliff Bentz, Malheur County Sheriff Brian Wolfe and Golden were among those in attendance.
"It's an honor to have the chief education officer here," Ortiz-Chavolla said.
Golden introduced the campaign after local author Judy Cox played the ukelele and read one of her books to the children.
"We know that if you are reading by third grade, you are four times less likely to drop out of high school," Golden said. "We also know that building the skills to make sure you are reading well by the third grade doesn't just happen by reading a book."
Golden said she is pleased with Ontario's response to the campaign.
"You can see that the community cares deeply for their children," Golden said. "You can feel it the second you get here."
Once stORytime has completed its five kickoff events, the campaign's second phase begins.
"Phase two of the campaign will be about deepening the partnership at the community and state level and to set up to improve student outcomes," Gimbel explained.
"We will be deepening partnerships with businesses and schools and community organizations across the state to create momentum and a ripple effect."